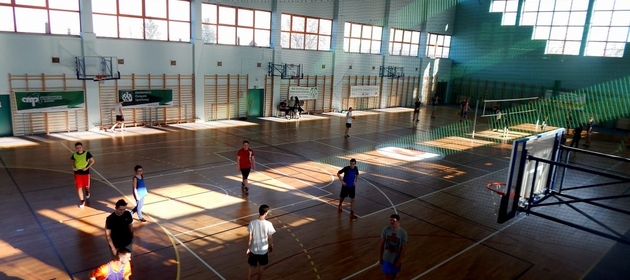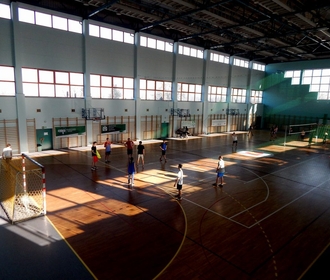 SPORTS

HALL

The sports hall thanks to movable net screens can be divided into three full-size pitches, on which volleyball or basketball matches can be played simultaneously.
The hall is also adapted to play handball competitions.
It has a sound system and a professional information board that allows you to monitor the result of the game on an ongoing basis.
The facilities of our sports hall are adapted to the European standards. There are rooms for coaches, rooms for pre-match and post-match briefings.
The hall also has two areas for the audience One is small, at the floor level, for about 50 places, and the second, at the gallery level, for an additional 150 places.
The sports hall dimensions:
Length – 47 m
Width – 24 m
Height – 12,5 m
---
HALL

RENTAL
Rental of the entire hall (60 minutes): from PLN 240-270, depending on the type of event.
Renting one sector: 80 PLN/60 minutes
During each class, we can offer the care of a qualified team of the university instructors who will help you as those who conduct the classes or as referees in your competitions. The cost of using the instructor's care amounts to PLN 40/60 minutes of the classes
Feel welcome to use our services!
NOTE! All those who want to watch sports events directly in the sports hall, in accordance with the Facility Regulations, are required to change their footwear in the general locker-room or wear pads on their own footwear.
CONTACT
+48 42 665 51 75, + 48 42 665 51 84
from Monday to Friday from 8.00 a.m. to 2:00 p.m.
czmsport@uni.lodz.pl